Trayning
Nungarin
Danberrin Rock
Located 10 km South of Nungarin townsite on Baird Road. There are BBQ and picnic facilities and a toilet.
---
Eaglestone Rock
Located 21km north of Nungarin on Lake Brown Road. There are BBQ and picnic facilities. There are currently no toilet facilities at Eaglestone Rock with the composting toilet now removed.
---
Talgomine Rock
Located 20km East of Nungarin Talgomine Reserve Road. There are BBQ and picnic facilities and a toilet.
---
Mukinbudin
Beringbooding Rock
Located 70km north of Mukinbudin on Beringbooding Road, Beringbooding Rock has the largest rock water catchment tank in Australia, built in 1937 and holding two and a quarter million gallons. It has picnic and large camping facilities including picnic tables, fire pits and a toilet. Take a walk along the walk trail to see the amazing balance boulder, a huge gnamma hole, and some of the Kalamaia tribes' paintings of hands in a cave at the rear of the rock.
---
Weira Reserve
Located 13 kilometres east of Mukinbudin is the Weira Reserve. It boasts a picturesque limestone breakaway with gnamma hole. There are barbecue and picnic facilities and a toilet. Native flora and fauna abounds. Native orchids may be found on the bush trail and keep an eye out for the Red Capped Robin.
---
Westonia
St Luke's Church FREE 48hr Parking Area
Free 48hr Camping area provided by the Shire of Westonia as a RV friendly town. This is for fully self-contained recreational vehicles only. The church and parking area are located at the northern end of the main street of Westonia.  Rubbish bins available for visitors to use and the area also benefits from some natural shade. The main street location means the Westonia General Store is only a quick five minute walk up the main street.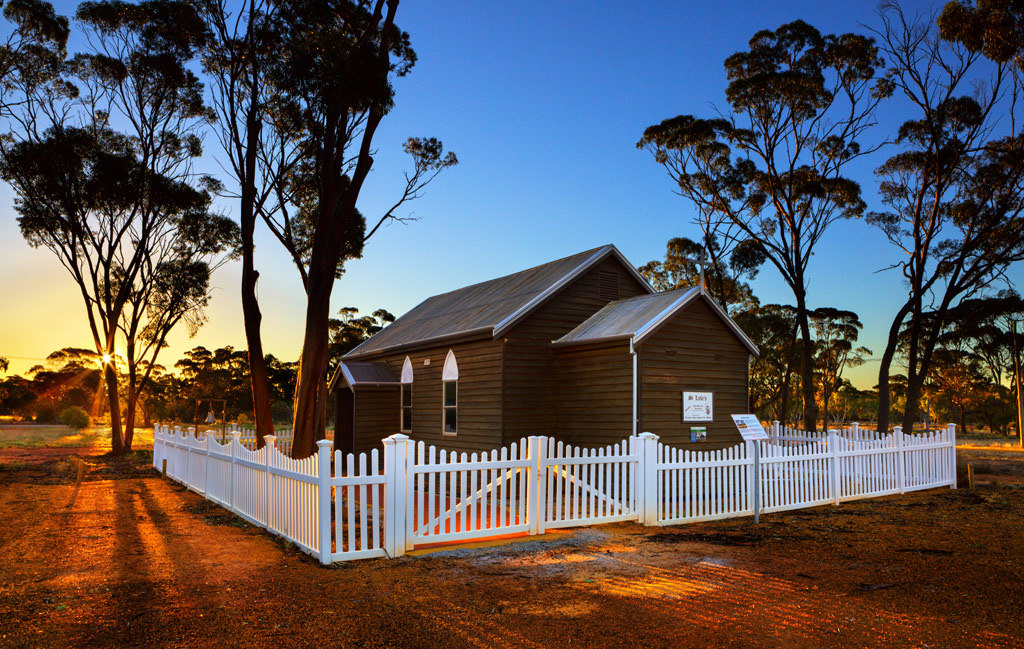 ---
Elachbutting Rock
Located 100km north of the Westonia townsite on Elachbutting Road, Elachbutting Rock and surrounds is an excellent area for bush walks, nature trails, and picnics. Also, there is beautiful scenery during the winter and spring seasons. It has picnic tables, fire pits, a toilet, and plenty of room to set up camp. No dogs allowed.
---
Beacon
Billiburning Reserve
Located 30km north of the Beacon Townsite, Billiburning Reserve has pleasant picnic and camping facilities with tables, fire pits and a toilet. It has attractive wildflowers; a good view from the top of the rock and it is also an ideal location for watching birds and other native fauna and offers many memorable photograph opportunities.
---
Bencubbin
Marshall Rock Camping
Located 10km south of Bencubbin townsite on Marshall Rock Road it has picnic and camping facilities including tables, fire pits and a toilet. A great place for bushwalking, bird watching and viewing the wildflowers. However one of the best reasons to visit the site is the spectacular views from the top of Marshall Rock, where one can see Lake McDermott, vast agricultural lands and even the Bencubbin Wheatbins. The reserve covers 1.4 square kilometres and is bounded by private land to the north south and west, with Marshall Rock to the southeast.
---
Gabbin Town Hall
The town of Gabbin located 18km west of Bencubbin is a small townsite originally served as a railway station for the Wyalkatchem to Mount Marshall line that was constructed through the area in 1913. It now is nearly a ghost town (no shops or other facilities) these days, with only a few houses remaining with only the key buildings remaining and a Heritage Trail which is a walk around the town with interpretive plaques explaining the various historical aspects of the sites.. The Gabbin Community Group have installed a unisex shower and toilet with disabled access at the Gabbin Town Hall and welcome visitors to stop and stay a night or two in the shade of the trees.
---
Waddouring Dam
Waddouring Dam is located approximately 14 kilometers south of the Bencubbin townsite on the Bencubbin-Kellerberrin Road. Free camping is permitted in the designated areas of the reserve. There is a large clearing at the entry to the reserve and a smaller camp area close to the dam. THese is a waterless enviro toilet, small shade structure, picnic table, and designated fire pits with swing-on barbeque plates available for use while visiting the reserve.
Water Activities
As the water is untreated stagnant water, we advise against swimming in the dam. The water is perfect for kayaking and paddle boarding or letting the kids build sandcastles on the sandy bank at one end. Jet skis and motorised boats are not permitted on the dam.
Other Activities
The reserve is a combination of native bushland and granite outcrop which is perfect for hiking, birdwatching, and wildflowers. We do ask that you stay to the granite rock and established tracks to help us preserve the incredible native flora and fauna the reserve has to offer.
Pets
You are welcome to bring along your four-legged friends for the experience however we ask that you keep them on a lead so they do not disturb other users of the reserve.
---
Koorda
Mollerin Rock
Located 50km north of the Koorda townsite on the Kulja-Mollerin Rock Road, it has picnic and camping facilities including picnic tables and a toilet. During late winter and spring this nature reserve has a picturesque display of wildflowers and beautiful panoramic view from the top of the rock.
---
Newcarlbeon
Located 20km north of Koorda on Newcarlbeon Road, during late winter and spring this nature reserve have a picturesque display of wildflowers, a beautiful panoramic view from the top of the rock and an enjoyable picnic area.
---
Native Flora Reserve
Located 14km east of Koorda on the Mulji Road, this reserve has a large collection of varieties of flora native to the Koorda area including the "Koorda Rose". BBQ and Picnic facililties are on site as well as walk trails and a toilet.
---
Wyalkatchem
Dowerin
Minnivale Townsite
Totally unserviced sites, limited facilities for self contained caravans only, natural bush, toilet, dump point, honesty box. Dogs welcom on a leash.
---